---
---
Our original 'bad boy' duals for the 2006 and newer MX5  was the best selling NC MX-5 exhaust by a good margin before the RoadsterSport Q took the sales crown. This revised version II choice remains popular as a LOUDER duals choice, great for soft top owners who like to wind out their manual transmissions to redline. We suggest those adding headers or using automatics or the PRHT (Power Retracking Hard Top) look to the RoadsterSport Q.
Messing with the successful design to improve it was approached cautiously. We learned on the dyno in testing for our header that we had ideal flow into the muffler and through the core but that the 2.25 inch connections between muffler and the tips was actually too much, and that cutting to 2 inches from muffler to tip was ideal for maintaining exhaust gas velocity and maximising horsepower gain. The connection into this muffler remains 2.5 inches for maximum flow and horsepower.
Other improvements in this version II include reinforced hangers and more sound insulation for an even more mild sound. Built in solid 304 stainless steel and completely polished to a mirror finish, our RoadsterSport exhausts are the only choice that incorporate baffle inserts that give YOU control over the final sound level.
YES, this MX5 exhaust is a simple bolt on and includes everything you need (gasket too). Already a legend, our RoadsterSport II Duals Mazda MX-5 exhaust is available in limited stock.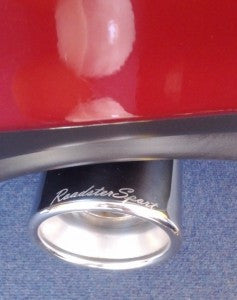 This MX5 exhaust delivers the zoom-zoom that the factory exhaust does not. This MX5 exhaust has an aggressive deep purr when you step on it. The factory exhaust on the 2006-2013 MX-5 Mazda is one of the few places that Mazda wasted a good amount of weight. The thick mild steel stock MX5 muffler canister on the 2006-2014 MX5 saves Mazda a lot of money but it alone is over 12kg!
Our all stainless steel exhaust uses the factory spacing, factory cutouts, and factory layout but saves over 2kg of weight and adds more of a classic sports car sound. Note that the Magneflow system is 20.5kg, which is why we worked hard to take weight off by using higher density packing and higher perforation rate cores to bring our weight below stock level.
INCLUDES our exclusive baffle cone inserts which are REMOVABLE and allow you to set the sound to sporty...or extra sporty. Also available are optional packed baffles (see separate product description) with which you can quiet it down even more for longer trips.
With the baffle out the sound on this version II is about 25% more than stock. With the baffle in the sound is closer to 20% over stock. Baffles are retained by small hex bolts inserted from well under each tip.
Installation of this MX5 exhaust is SUPER EASY...just two bolts! You don't even need to jack up the car, this installation can be done in your driveway! This MX-5 exhaust is guaranteed for as long as you own your car. Made in the USA with a 2 YEAR WARRANTY. Fits all 2006 and newer with manual transmission MX5, automatic transmission MX5, and retractable hardtop MX5!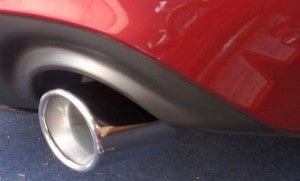 JUNE 2013 Update: New Rolled Tip Design! Had many requests for a new thicker rolled tip. The problem with the rolled tips that all our competitors use is that they are very heavy, which helps partially explain the ugly fact our competitors don't want to admit...which is that most our competition is HEAVIER than the stock muffler. As a famous racer once said, weight is the enemy, and making a muffler that is heavier than stock and calling it a 'performance muffler' is not our style here. It took a big investment in new equipment to come up with a rolled tip that didn't add weight to our high flow performance design...but it was worth it. These new dual 3.5" OD outlet tips complete the look of the exhaust and provide a more aggressive and sporting appearance.
Yes, still works with, and includes, our unique removable baffles that put YOU in control over final sound levels.

BRIAN'S NC MX5 Exhaust APPLICATION GUIDE: We have a full range of exhaust choices for the new 3rd generation MX5. All of them give you better flow for more horsepower, some of them save weight over the massive 12kg stock unit.
Since one man's too loud is another man's too quiet, here is how each of our MX5 exhaust choices ranks in terms of sound level: the Racing Beat is about 15% louder than stock and very deep sounding, the Magnaflow comes in about 15-20% more sound than stock, our RoadsterSport II Duals is actually adjustable for a range from 15 to 25% more sound than stock depending on whether or not you use the included baffles or the optional packed silencer baffles, and MazdaSpeed ranks about 30% more sound than stock with a little more low end boominess. The RoadsterSport RACE single tip MX5 exhaust is about 50% more sound than stock.
BRIAN'S APPLICATION NOTES: This is our best seller for the manual transmission MX5, but we prefer the RoadsterSport Q for those with the automatic transmission or anybody considering purchase of a header...or anybody who wants it nice and mild. The demographics on this choice are interesting, as it is most popular with our buyers Under 30 years of age....and over 60. My best guess on that fact is the younger guys tend to run the car in the upper RPMS more where this exhaust has its best note, and the customers over 60 tend to do the same because so many of them came from a history of British sports cars where life began over 4000 rpms. Either way, if YOU are the type that rarely ventures over 4000 rpms then I strongly suggest the Roadstersport Q instead.
HEAR it now on customer install below, otherwise stock MX5
Video below of baffle removal process
MORE Sound Files at our Exhaust Blog---CLICK HERE TO LISTEN AND READ MORE.
INSTALL NOTES
Read full installation hints and notes in our forum Installation Instruction Section! The secret is LUBE your hangers well with dish-soap so you can get flanges aligned properly, and torque the supplied hardware to NO MORE THAN 25-30 ft/lbs (using more torque will actually result in LESS seal because you will pucker the flange out at the middle).
Due to the carton size we need to deliver these to a business address.  Please contact us to work through the options.
---